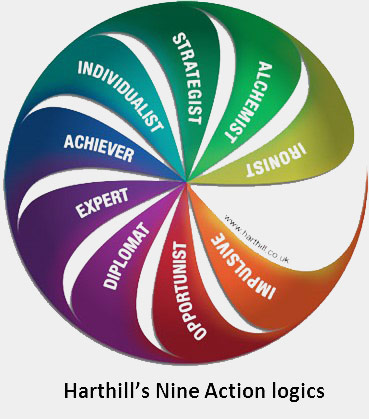 In my practice, I apply the Harthill Action Logic framework as a key teaching tool to help leaders better understand how and why they see and interact with the world in the way that they do.  The Action Logic is not well known in Australia, but it should be.  Developed by David Rooke and William Torbert in the 1990's, the Action Logic doesn't predict or measure behaviour as most tools do.  It is not a 360 degree assessment. What it does is inform the individual about how they interpret their surroundings and react when their power or safety is challenged. When used in leadership coaching, it can help the leader transition to later stages of personal insight and tap into ways of bringing about business, personal or social transformations.
Which brings me to Paul Roos, soon to be ex-Melbourne Football Club coach.  The two year Odyssey between Roos and the Demons is all but complete and many are starting to ask whether he has actually achieved anything of significance in his time at the helm.
In terms of the Action Logic, most AFL coaches would be firmly placed in the Achiever category.  When Melbourne sought a replacement for Mark Neeld in 2013, it made sure it got their man in Roos, whom they could have assumed was the ultimate Achiever, based on his record.
What Melbourne didn't bank on, was that they got far more than they bargained for in selecting Roos.  Neeld, by the way, is a classic Achiever, but Melbourne, as a club, was not.  It is an indictment on the club that it had slipped back so far in organisational maturity, but that meant that when a replacement was sought, they had to be very careful about their next appointment.
Roos, you see, is more advanced in organisational development terms than your average Achiever.  He is a post-conventional guy, who, in Action Logic terms is at least a Strategist and maybe, if he were assessed, could be one of the top 2% of the population who score as Alchemists.  That's not to say he doesn't have Achiever characteristics.  He does.  In fact he brings that and far more besides.
He is a multi-faceted individual who can integrate multiple perspectives and is mostly several steps ahead of his players and peers.  Based on his type, he can simultaneously coach an AFL team, meaningfully contribute to game development Australia wide and globally, perform as a media personality and probably much more that we never see.
The Achiever's greatest enemy is time.  There is never enough of it.  Roos the Strategist/Alchemist seamlessly integrates time as one of many factors that he contemplates.  Time and short term success to Roos are artificial constructs.  Because he can see what others don't, he is less prone to the pressures of Win/Loss than most of his peers.
For some of these types, they can appear on different wavelengths to their players, who struggle to adapt to their different approach.  Players are used to being driven by Achievers and when they get a more sophisticated message, they can struggle to adapt and respond effectively.
Melbourne, a club that hasn't tasted success since 1964, is also moving through its organisational development cycle and is just coming to terms with what is required for it to become an Achiever organisation.  It is not quite there yet, but is now emerging.  Whilst many would have felt more comfortable with an Achiever coach, the Board and administration should be congratulated for taking the leap of faith.
Roos' legacy will only become apparent once he has left.  This is also typical of transformational leaders.  He has laid the foundations for Simon Goodwin to succeed him and reap the benefits.  Melbourne is emerging as an early Achiever club and looks destined to be matched with a hungry Achiever coach.
When, in 2016, Melbourne emerges from the darkness and makes a charge for the top 8, just remember that the foundations were laid by their post-conventional coach of 2014-15.
If you want to know more about the Action Logic tool, check the Harthill website http://harthill.co.uk/ or contact me directly.